By Jessica Stone, CCTV Washington Correspondent
The mother of Private Danny Chen took the stand late Tuesday, in the trial of Sergeant Adam Holcomb, 30, of Youngstown, Ohio. Holcomb faces charges of negligent homicide, reckless endangerment, assault and others for the death of Private Danny Chen. After six weeks of alleged hazing and mistreatment, Chen took his life on October 3, 2011 in a guard tower in Afghanistan.  Seven other service members are also charged in connection with Chen's death.
On Tuesday, Army prosecutors argued that Holcomb had a pattern of racial harassment with subordinates.  In court, prosecutor, Captain Blake Doughty told jurors, "as a result of Holcomb's failure to protect his subordinates, Danny Chen made the decision to commit suicide."
The trial of Sergeant Adam Holcomb begins in Fort Bragg Courthouse
But Holcomb's attorneys argue that Chen was a poor soldier whose mistakes put other soldiers in danger. They say he never expressed that his race-based nicknames offended him and killed himself not because of hazing, but "because his family told him they would disown him. "  Defense attorney, Captain Dennis Hernon told the jury, Chen had told a fellow private before his deployment to Afghanistan, "I just found out that my parents disowned me. They disowned me because I joined the Army and am deploying to Afghanistan."
Chen's mother took the stand Tuesday to refute that claim: "I never told my son I would disown him," she said, crying, through an interpreter.
The assault charges against Holcomb stem from an incident before Chen took his life in which Holcomb allegedly grabbed Chen by his wrist, pulling him out of bed and dragging "him over a tent floor and a gravel path with his hands." 
Holcomb's attorneys say it happened after Chen forgot to turn off the water heater in the men's shower.  The water overflowed, threatening vital communications equipment for the whole platoon.  Holcomb went to Chen's bed to confront him - as both superior and his roommate.  According to Holcomb's attorney, Chen refused to get up, and Holcomb responded by dragging him out of bed and over gravel to show him his error.
Army prosecutors say they will call the Army medic who examined Chen's injuries to support their claim that Chen committed suicide because it was "the only way he could think of to stop the hazing at the hands of Sergeant Holcomb."  Some 50 witnesses are expected to testify over the course of the trial.
If convicted, Holcomb could face a maximum in prison of 17 years and nine months.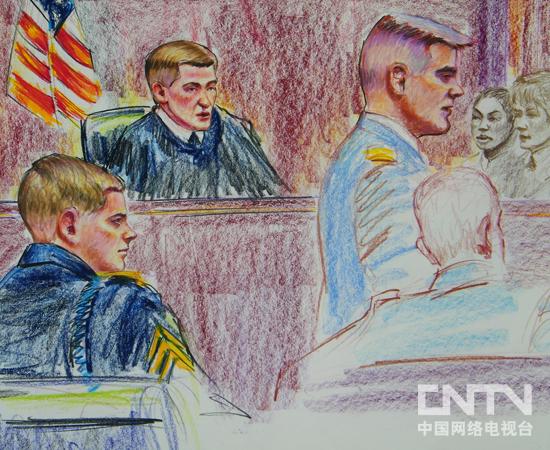 A drawing shows the courthouse of Sergeant Adam Holcomb's trial at Fort Bragg.(Courtesy:
Jerry McJunkins)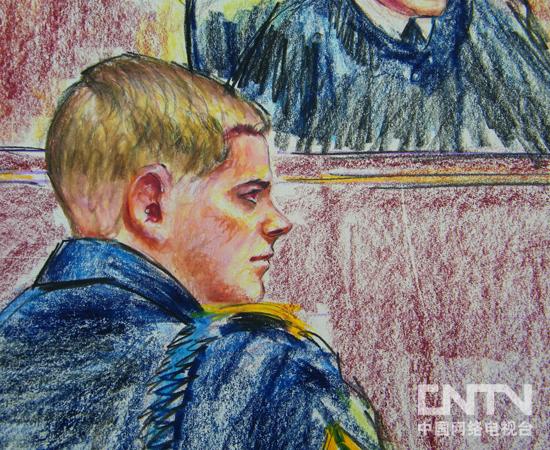 A drawing shows Sergent Adam Holcomb in the the courthouse at Fort Bragg.(Courtesy: Jerry McJunkins)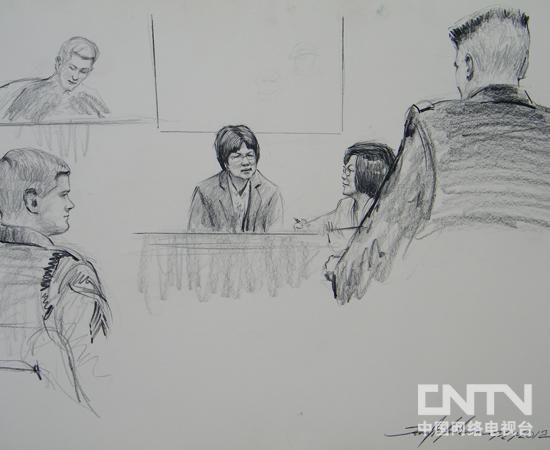 A drawing shows the mother of Danny Chen in the the courthouse of Sergeant Adam Holcomb's
trial at Fort Bragg.(Courtesy: Jerry McJunkins)