The United States Army sergeant, who was found guilty of mistreating and assaulting his Chinese-American subordinate was formally sentenced on Tuesday.
Sergeant Adam Holcomb, 30, of Youngstown, Ohio will spend 30 days in a military prison. He will also have to pay a fine of $1,181.55 per month and has been reduced in rank. He is no longer a Non-Commissioned Officer, permitted to lead a squad.
In a statement, Elizabeth OuYang said, "In the court of civil and human rights, the verdict is clear. The racial humiliation, the hazing, and blatant neglect by the accused endangered Private Chen's life and contributed to his death. For the conviction of assault and two counts of maltreatment, a sentence of thirty days hardly equates with Private Danny Chen's life being cut short at age 19.
Allowing a superior convicted of racial maltreatment of a junior soldier to remain in the army calls into question the army's commitment to diversity and equality." OuYang is the president of OCA-NY and a spokesperson for the Chen family.
In a military trial that ended Monday at Fort Bragg, North Carolina, Holcomb was cleared of more serious charges, including negligent homicide. The commander of the 18th Airborne Corps, Lieutenant General Daniel Allyn makes the final decision in the case after reviewing the jury panel's decisions. "We are pleased with both the findings and sentence.
Finally, everyone got to hear SGT Holcomb's side of the story," said Holcomb's defense attorney, Captain Dennis Hernon in an email statement.
Private Danny Chen committed suicide in Afghanistan, October 3, 2011. Military prosecutors say the 19 year old was driven to kill himself because of mistreatment by his superiors.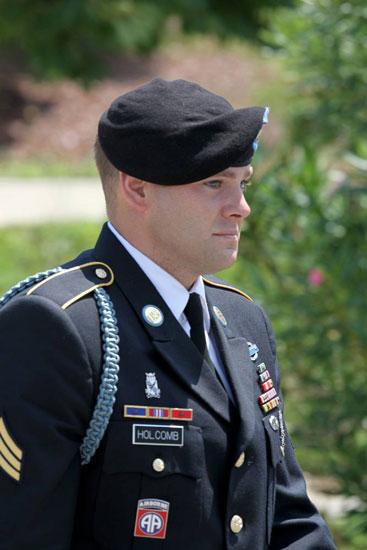 Sgt. Adam Holcomb was sentenced on June 31 for the death of Pvt.
Danny Chen. (Courtesy of the U.S. Army)