By CCTV correspondent Brian Byrnes
Argentina is appealing a US court decision ordering the government to pay back 1 billion dollars in debt. This could force the country to default again.
The ruling by a federal judge in New York said Argentina must pay ALL of its creditors, regardless of whether they had participated in earlier debt restructuring deals. A group of "holdout" investors refused the deal and are demanding to be paid in full. One of them, NML Capital, recently convinced a judge in Ghana to impound an Argentine naval ship over the unpaid debt. Last week's U.S. ruling says Argentina must make payment on $1.3 billion dollars in debt by December 15th. On Monday, Argentina appealed the ruling.
Hernan Lorenzino, Argentina Economy Miinster, said, "If a judge can declare that a payment system is what he says it is, and what he says must be done whether it is in his jurisdiction or in another part of the world clearly we believe that it exceeds the matter involving Argentina. And these are among the arguments that we plan to use in our appeal."
The ongoing legal disputes between Argentina and its creditors have been taking place in courtrooms around the world for more than a decade following Argentina's historic $100 billion dollar debt default in 2001. Now with the latest court rulings coming from New York, there is speculation that Argentina could default once again.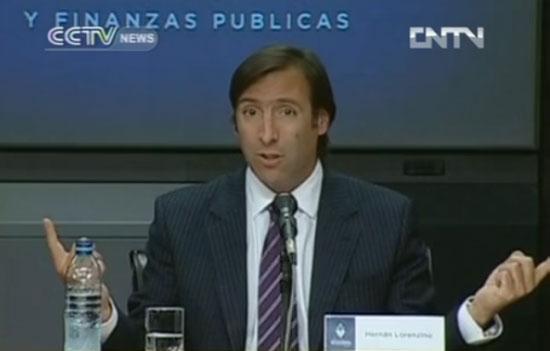 Hernan Lorenzino, Argentina Economy Miinster
On the streets of Buenos Aires today, there were mixed emotions on the topic.
"After the 2001 crisis, the country started a good recovery, so the politicians thought the people were distracted and they used that as an excuse to do dishonest things."
"Even though it was done by a previous government, Argentina now needs to fulfill its promise and pay its debt."
"We are in bad shape now, and with a default things will be worse. The government is corrupt, but the government needs to remember that it works for the people."
And now the Argentine government is working to buy itself more time to resolve this monumental debt dispute.

Related stories
Editor:James |Source: CCTV.com