In today's edition of "Melting Point," CCTV's Sean Callebs shows us the ways Greenland is changing.
It is truly one of nature's amazing beauty spots - The Greenland Ice Sheet - covering 90 percent of the world's largest island and leaving an indelible mark on all who set foot here from pilots to seasoned researchers.
For several years, scientist Marco Tedesco has been traveling to the ice cap during the short summer months above the Arctic circle. But this past summer was different: the weather was warmer than ever before.
"We had the new record set in terms of melting over the greenland ice sheet." Marco Tedesco said.
A staggering 97 percent of the ice shelf was melting at one point. In all of recorded history, that had never happened.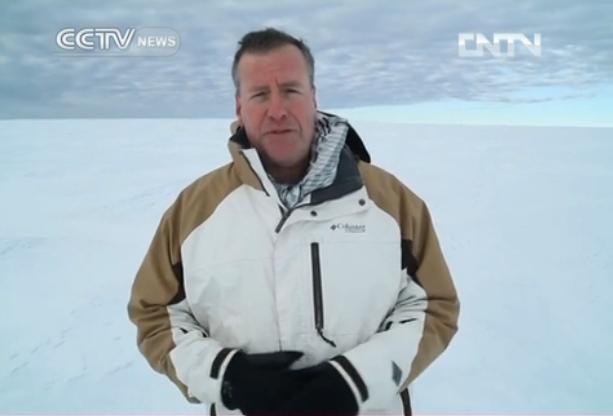 CCTV correspondent Sean Callebs in Greenland.
It is incredibly windy, incredibly cold, and incredibly awe-inspiring to be standing here in Greenland's massive frozen wasteland. Standing on this snow and ice, it is hard to believe that the ice sheet is melting as fast as scientists say. But it is, and this country is changing.
It is melting fastest where you might expect: The lower elevations near the coast-line. Climate change is fueling sea level rise as water from the ice shelf pours into the sea.
A hydroclimatologist from Rutgers University, Asa Rennermalm, said, "If all of it would melt tomorrow, it would raise global sea levels about seven meters. That's a lot of water and it is not going to happen over the next hundred years. But even just a fraction of that amount of ice melting over the next 50 years could have consequences for people living everywhere."
Asa Rennermalm has spent the past five years studying how melting ice is affecting the global climate. Rennermalm is among the scientists convinced that the Arctic is changing faster than any other environment on earth.
She said, "The fear is that this type of melting event that we see this summer - that we will see more of - this enhanced melting that is going on, on greenland's ice sheet will continue in the years to come."
"The Arctic region is mostly covered by land. In that it responds more rapidly to these climate change because the ocean can absorb enormous amount of heat therefore it doesn't change rapidly," said Minik Rosing, Geologist from University Of Copenhagen,
Minik Rosing is a native Greenlander. He says what is going up here will have an effect on you. Rising sea levels, and more.
He said, "global warming is causing change in weather patterns and storm patterns."
Just look at the past six months: A scorching summer in the United States with some 15,000 record high temperatures, and then in the late fall - Superstorm Sandy.
"Sea level is going to rise a few inches by 2050 - it doesn't sound like much. What does it matter if there is just this much more water in the oceans? The problem is the storm surge will be much higher and that is going to be a problem." Asa Rennermalm said.
The effects in Greenland - are dramatic.