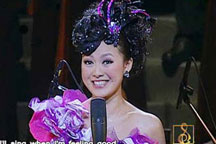 The event took place in January 2009 on the day before the eve of the Chinese Lunar year. Held at the Hall of Great the People, it is the fifth concert of this kind that take place in Beijing.
Now a year on, we bring you a special musical tribute to those who lost their lives, loved ones and homes to the disaster, and to those who hopes and are stilling hoping to rebuild the quake-affected areas.
Beijing Opera is the largest Chinese opera form, it is extolled as ´Oriental Opera´. Having a history of 160 years, it has created many ´firsts´ in Chinese dramas.
In spite of the differences in colors, languages and races, we share the charm and joy of the Olympic Games, and together we seek for the ideal of Mankind for peace. We belong to the same world and we share the same aspirations and dreams.