Watch Video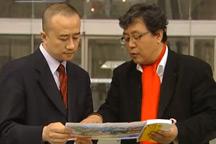 Play Video
The World Expo is turning many people's attention to the topic of urbanization. In such a rapidly developing country, the slogan "Better City, Better Life" has a practical significance that strengthens the bond between a metropolitan area and its people.
In today's Between Cities -- our reporter, Han Bin, talks with the chief designer for the Expo site, local residents, and international visitors -- to gauge their views on the best solutions for Shanghai's future.
Welcome to Shanghai one of the world's fastest growing metropolitan areas. Like all cities, it struggles between modern urbanization, and traditional protection.
What will its future be like? And what constitutes a better solution? The World Expo is a testing ground for these ideas.
Shanghai resident Le Jiawei said, "The main standard for a better city is convenience in life. And Shanghai is just such a place."
Visitors from Beijing Zhang Yuan and Li Nan said, "I think it's the environment It's people's quality of life."
The Expo is presenting concepts of a green city, a sustainable development format in urbanization. New technology and lifestyles are prominently displayed.
Professor Wu Zhiqiang is the Chief Planner of the World Expo site and its theme pavilions.
He tells us how the design helped combine Shanghai's industrialized western areas with its new economic eastern districts.
Wu Zhiqiang, chief planner of 2010 World Expo Site, said, "We located the idea of harmony of history, today, and future. We also located the idea of harmony between nature and urbanity, the people to people connection and communication."
Based on these concepts, the Huangpu River becomes a natural element to consolidate urban life in Shanghai's two sections. This offers both sides equal chances at progressing into the future.
And a better city does not simply mean rapid development.
Wu Zhiqiang said, "Only we have a better city, which means green city, sustainable city, then we have a better life. So that's the precondition."
This view is shared by many. But it also triggers debates over what constitutes a better city.
Gerhard Hinterhaeuser, vice president of PICC Asset Management Company, said, "Shanghai now has two sides, Pudong and Puxi. You have to be integrated well into one city. If you don't integrate well, you have two parts of one city. And I think the Expo concept somehow brings forward the idea that Shanghai is one big metropolis."
Visitor from Ethiopia Tekeste Sehat said, "Honestly speaking, this site looks a bit artificial. But I see a look of constructions that uses green energy. That's good."
With more people visiting, and the debate over a better city raging, the theme of sustainable urban growth could be the lasting legacy of the Expo.
Chinese designers, like Professor Wu Zhiqiang, are trying to turn the old idea of rapid urban growth into a practical model of sustainable development. They hope the design of the World Expo will not only excite the people visiting the venue, but also offer solutions to enhance their quality of life in the process.
Editor:Zhang Ning |Source: CCTV.com