Watch Video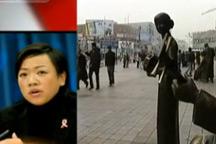 Play Video
33 million people today are living with HIV. Frika Chia Iskandar is one of them. Putting a face to a virus helps many people understand AIDS, and touches each one of us. We cross live over to Pnom Penh, Cambodia where Frika is waiting...
1. A landmark decision taken here in China... I just have to ask you, what do you think?
2. You're not just an AIDS activist, you're a young woman who happens to be living with HIV. It's so rare to get someone on air... and someone willing to be openly identified. You're living with HIV... but what does it feel like to be living with stigma and discrimination?
Related stories
Editor:Zhang Ning |Source: CCTV.com