Watch Video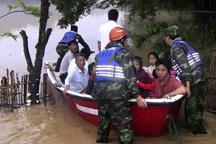 Play Video
Rainstorms since Last Wednesday have caused landslides in many areas in Southern China. Over 145,000 people have been relocated. Local governments and people have been busy with disaster prevention and relief work.
Rainstorms in Ganzhou, Jiangxi Province, caused a landslide, blocking a national main road in Nankang City on Wednesday. One man got caught.
Landslide witness from Ganzhou, Jiangxi,said, "We saw the landslide blocked the road and an elderly man was mowing grass; he was hit."
Part of the road were immediately cleared.
By Wednesday evening, the road was cleared.
Liling Township in Hunan province suffered cave-ins. The main road to Jiangyuan Village was cut off and over 20 houses were endangered. Residents were removed to safety.
In Guangzhou, capital of Guangdong province, the river by Jinsui Building burst its banks.
The two floors underground were flooded. Electricity was cut, causing a blackout. Over 300 residents had to leave.
Mr. Yu of Jinsui Building Management, said, "Most of the residents have moved out. There were offices in the building; they have also moved gradually. We won't get power back for half a month or a month."
Floods caused by rainstorms and melting snow have affected over 10 million people in southern China. Disaster relief authorities on Monday put direct economic loss amounts at over 7 billion yuan.
Related stories
Editor:Zhang Ning |Source: CCTV.com