Watch Video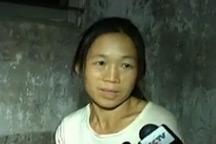 Play Video
Wengyuan County was the hardest hit area by the rainstorms in Guangdong Province. More than 10,000 homes were damaged by floods and mudslides. More than a quarter million people are now homeless.
Fupo Village Primary School is one of the relocation centers housing people affected by the disaster.
It's already late into the night, some villagers are still up.
The local government distributed food and water and mosquito spray to the villagers.
Ten kilometers away, tents become temporary homes for villagers.
Villager of Fupo village said, "I went back to see my house, it is totally collapsed, there is nothing left, everything is flooded."
Villagers say Thursday's heavy rains trapped more than 200 thousand people. Thanks to the timely rescue from the army and firefighters, all were rescued.
Zhu Yuwang, local official of Wengyuan County, said, "We relocated 250 thousand people within 8 hours in the county."
Zhu says more than 300 millimetres of rain fell in a 24 hour period. The economic loss in the region may reach as much as 600 million Yuan. With more rain in the forecast for the next couple of days, rescuers have to prepare for more relief work.
Editor:Zhang Ning |Source: CCTV.com