Watch Video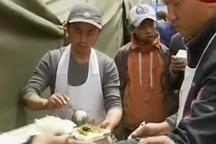 Play Video
News from Yushu, Qinghai Province. Some young people form Beichuan, Sichuan Province have been staying in Yushu to provide local people with free meals since the earthquake.
There is rarely such a thing as free meal but after the earthquake in Yushu, a tent restaurant has been opened, giving free meals to local people.
This is a tent restaurant. It has been serving the local people in Yushu with free meals for more than 20 days. Ning Jian, from Beichuan, Sichuan Province, used to be owner of a Sichuan Restaurant in Yushu. The earthquake destroyed his restaurant building. Two days after the earthquake, he consulted with his two fellow-villagers in Yushu, who were a couple, planning to start a free restaurant for the local people.
Ninf Jian, free meal provider, said, "As a people from Beichuan, Sichuan Province, we choose to stay here at this moment and overcome the difficulties together with local people. We do not have ability to do something big, but we can do something within our power. So we unite to open a free restaurant to provide local people and volunteers with hot meals."
With the help of local industrial and commercial department, the free restaurant started business in three tents on April 20th.
This restaurant provides local people with two meals each day. Each meal includes rice with two or three dishes. For today, one dish is fried pork with green pepper, the other is fried eggs with green vegetables.
Huang YOnghui, free meal provider, said, "There are many people come to have meals. We have to use pressure cooker to cook rice one pot after another. For each meal, we need to cook 14 pots of rice."
To ensure the local people can have meals on time, these three young men have to start their work form 8 o'clock in the morning. Some volunteers also join them to offer help and the restaurant can serve 500 to 600 people for each meal.
Editor:Zhang Ning |Source: CCTV.com