Watch Video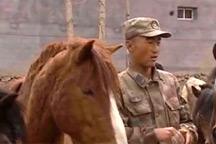 Play Video
During the Yushu Earthquake in the Qinghai province, one third of Army horses in a Cavalry team were killed or injured. The rest suffered severe shock. Since the disaster, the cavalry's officers and soldiers have been working hard to help the horses recover from the trauma.
Zhao Zhihong has been taking care of his new friend "Aiduo" since that devastating earthquake on April 14th.
Aiduo is Zhao's new partner after he lost his previous four legged friend of more than a year during the quake.
Zhao Zhihong said, "Horses are our silent friends. We'd been together for more than a year. I felt bad when he died."
Zhao's horse is among the 108 horses in the cavalry. 41 of them died in the 7.1 magnitude earthquake. 28 were injured, the rest were left in a bad state.
To help the horses recover from the trauma, animal psychologists were brought in.
Vet Luo Jilong said, "Medical treatment and psychological intervening shall work together. Touching and breeding are helping them cultivate intimacy and trust to people therefore developing a sense of safety."
With help from the vet, Zhao is trying to help "Aiduo" feel comfortable with him by brushing him, talking to him and feeding him.
Physical recovery and training is vital to the officers and soldiers who make up this cavalry team. They have gradually trained the horses to run and jump once again.
The next 3 months is the most important training period for the horses. With their gradual recovery, the team is hoping their friends will be good enough to pick up their routine again.
Editor:Zhang Ning |Source: CCTV.com