Watch Video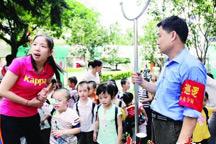 Play Video
Security has been tightened around schools and kindergartens in China after a series of attacks on students and teachers over the past over two months. Crimes that have shocked the country and left families in mourning.
On March 23rd, a man stabbed 8 children to death and injured 5 others at a primary school in east China's Fujian Province.
Twenty days later, an 8-year-old boy and a 70-year-old woman were murdered in south China's Guangxi Zhuang Autonomous Region. On April 28th, a man forced his way into a primary school in Leizhou, Guangdong Province and injured 18 people with a knife.
Less than 24 hours later, 29 children and 3 adults were injured when they were stabbed at a kindergarten in Taixing, Jiangsu Province.
Then, the day after that, another man injured 5 children and a teacher at a kindergarten in Weifang, Shandong Province. The three most recent stabbing rampages occurred in Shaanxi Province and Guangxi Zhuang Autonomous Region between May 10th to May 12th, killing 10, and injuring.
Editor:Zhang Ning |Source: CCTV.com