Watch Video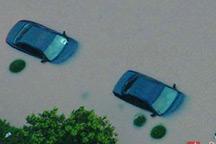 Play Video
Last week's rainstorms in Guangdong province, have brought economic losses estimated at around 400 million Yuan or 59 million U.S. dollars. Many car owners have been filing compensation claims, for their cars that were flooded in underground garages in Guangzhou, the provincial capital.
This is a parking garage in Guangzhou. Most of the flood water has been pumped out.
But after being submerged for 50 hours, Ms. Li's car is in a bad shape and in need of repair.
Flooded car owner Ms. Li said, "The car is totally insured, but what good will it do? The car is new, I've had it for half a year. "
Mr. Guo's car was brought to the service station to get an estimate of the damage. His insurance company is also involved.
Deng Tao from Pacific Insurance, said, "Compensation will be issued according to the contract. If the car is damaged, we will provide compensation. "
Guangdong insurance supervision authorities have received more than 20 thousand claims related to rainstorms. Most of them are vehicles related to rainstorm damage.
Yin Jiangao, office manager of Guangdong Insurance Supervision Bureau, said, "The insurance companies are smoothly pushing forward with their compensation work according to the insurance contracts and laws."
Yin said some customers even got early payments for their claims.
Some owners will get compensation for their flooded cars, but many people are still wondering why so many garages were flooded.
Officials have said that low standards for sewage systems was behind the flooding. Most garages were designed for handling rainstorms once a year.
Related stories
Editor:Zhang Ning |Source: CCTV.com