Watch Video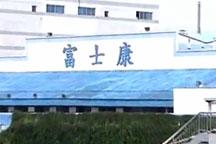 Play Video
While the public is still in the shock over the latest suicide stories at Foxconn, another unnatural death at the Ipad-making company brings the death toll to eight since 2010.
Tuesday evening at 6:30, a 24-year-old Foxconn employee chose to end her life by jumping off the roof of a building. It happened only five days after the last suicide and is the eighth of its kind at Foxconn since 2010.
Foxconn says all the eight employees who chose to throw their life away are between the ages of 18 to 24, and all were fresh recruits. But the company disavows any link between overwork and their suicidal tendencies.
Foxconn spokesman Liu Kun said, "Police records show there's no direct link between our operation and the eight suicides. Their work log show none of them have worked more than the law allows. There's no record of complaints either."
However, the spokesman did admit possible loopholes in the management.
Foxconn spokesman Liu Kun said, "We might have overestimated the abilities of young managers who were once production line workers themselves. Our corporate rules prohibits any abuses to workers, oral or physical."
Initial police investigation show that the girl might have committed suicide because of a failed relationship. Foxconn refused to give more details, saying it's a matter of protecting privacy.
Editor:Zhang Ning |Source: CCTV.com