Watch Video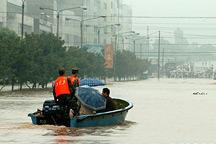 Play Video
Floods triggered by heavy rainfall last Thursday destroyed all the roads to Xupu County in the mountains of central China's Hunan Province. Twelve villages were isolated, trapping eight thousand people. Working around the clock, repair crews were able to open access to seven of the villages.
The floods left a trail of damage.
This used to be the road leading to Shanxi township. Homes were endangered.
The only way to get in now is by foot along a unused road.
A guide of Xuping County said, "This small road is obsolete since we stop farming and resuming forestry in the area, but after the main road was destroyed, this is the nearest shortcut."
After two hours of walking and climbing, the village comes into view.
This is all that remains of a 128 meter bridge after the flood waters washed it away.
A villager of Xupu County, said, "We heard wooosh, then the bridge was no longer there. At first, many villagers were watching the floods on the bridge, the it became dangerous and local officials asked us to leave and sealed the bridge, shortly after, it collapsed."
As the flood surge arrived, the level of the Shanxijiang River climbed by more than 10 meters within an hour.
Flood water reached the second floor at its highest. and water was more than two and half meter deep on the street.
Power, telecommunications, and the drinking water system were all damaged.
The trading market became empty and all the four stores for oil and grain have all been washed away.
But life has to go on.
Two days after the flood, a temporary road was opened and five-thousand kilograms of rice and two-hundred quilts had been brought in. The local government says full disaster relief work is under way.
Editor:Zhang Ning |Source: CCTV.com