Watch Video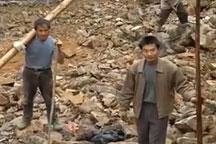 Play Video
Zhuxi Village in Xupu County is among the hardest hit by floods in Hunan Province. A century-old street has been destroyed, two thirds of the houses have collapsed and power has been cut. Meng Lingqi takes a look at how people are coping with the aftermath of the floods.
This is the only road leading to Zhuxi Village....
villagers are trying to fix what the floods have destroyed...
A villager said, "We are repairing the road. 5000 people use it every day. It may take half a month."
Cars can't get in, so motorcycles are the main means of transport.
Signs of damage is everywhere and rocks still fall from the mountains.
After two hours on bumpy roads, Zhuxi comes into view.
The century old street was the regional trading center of 7 villages.
The floods have left 600 villagers homeless.
This is the house of Zhou Caijin. Her husband was working in the city and her daughter is preparing for the college entrance exam.
But her family is not the worst off.
Villager Dai Shanmin said, "My house was flushed away, nothing is left. "
The only school for the 7 villages was also damaged in the flood.
The local government lent a hand so that students can get back to their studies.
A villager said, "Class has resumed. The government rented us a place."
Landslides destroyed over 10 kilometers of power lines in Xupu County. Workers have been working round the clock to repair the damaged lines and transformers.
Life will go on and villagers are doing everything they can to get back to normal.
Editor:Zhang Ning |Source: CCTV.com