Watch Video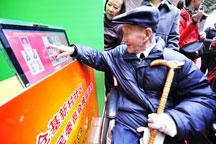 Play Video
The ruling Communist Party of China is expanding the use of direct elections for choosing grassroots party officials. Nanjing, capital of east China's Jiangsu province is a pioneer of testing the intra-party democracy. More than 800 villages in Nanjing are now testing the new system. Han Bin follows one village to see what's being called a major step forward in CPC's democratic progress.
A big day for Daquan village.
Villagers and Party members are exercising their right to choose the party secretary and other committee members for the next three years.
Yang Qingyuan, farmer of Daquan Village, said, "The village party leaders should unite all CPC members to bring practical benefits to the villagers."
Lu Fengxian, farmer of Daquan Village, said, "They should take care of the elderly and bring us to gradual prosperity."
18 candidates are competing for the 7 positions. And five are in the first round of voting for the post of secretary.
Voting is voluntary and turn out is high. Some 45 hundred farmers live in Daquan. The main occupations are farming and animal husbandry. People are hoping for a better life with a new leader.
Professor Shi Zhongquan believes direct elections like those in Daquan village are a major step forward in promoting awareness of democracy and Party building.
Shi Zhongquan, Deputy director of Historical Research Ctr., CPC Central Comm., said, "Any power needs supervision. The establishment of a clean party should put emphasis on perfecting the system. The CPC promotes power under the light of day. Daquan's model is exactly the case. "
The idea came from the 17th National Party Congress in 2007. CPC General Secretary Hu Jintao stressed the importance of expanding intra-party democracy and experiments with grass-roots political reforms.
The city of Nanjing is a pioneer. Last July, direct elections were carried out for over 300 neighborhood party organizations.
In fact, China has had direct elections of village committees and the People's Congresses at the township and county levels for decades.
But the latest move within the CPC is seen as a historic change.
Shi Zhongquan said, "This is a political reform, and a good beginning to further promote intra-Party democracy. Democracy is an important representation of social progress and civilization. This political reform is in the trend of social development, as well as the advancement of the CPC."
Back in Daquan village, the process is now narrowed down to the three candidates, who will contest the final vote on Friday.
Participants agree that direct elections can create opportunities for politicians to showcase their potential through competition. While at the same time, they stimulate grassroots enthusiasm for political participation. At present, this new mechanism is only in its testing phase in certain cities. With the CPC's deepening reforms ahead, direct elections at a wider scope and higher level could be seen in the near future.
Editor:Zhang Ning |Source: CCTV.com