Watch Video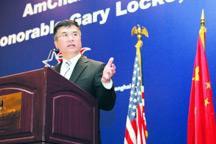 Play Video
US Secretary of Commerce Gary Locke has continued his official visit to China by moving on from Hong Kong to Shanghai. It's where the Secretary addressed the American Camber of Commerce and said the purpose of his visit is to focus on a US-China collaboration in the clean energy market. Xu Zhaoqun reports from Shanghai.
US Secretary of Commerce Gary Locke says the global increasing demand for energy is scary. He says it's an urgent situation the whole world is facing.
The Secretary predicts by 2040 global energy use will double. He says two new power plants with 1000 mega watts will be needed every week to meet that demand.
The Secretary is leading the United States' first cabinet-level trade delegation to China. It consists of 24 businesses representing a cross-section of the best in clean energy, energy efficiency, energy storage, transmission and distribution. They are all looking for commercial oppotunities in China.
On Thursday, the delegation will arrive in Beijing in the lead-up to the upcoming bilteral strategic and economic dialogue meeting next week.
Editor:Zhang Ning |Source: CCTV.com