Watch Video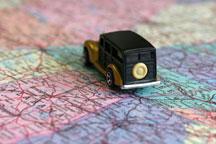 Play Video
An Internet bulletin board has been shut down for publicizing sensitive geological information. This includes the location of airfields, naval bases and the PLA Hong Kong Garrison. It's the latest crackdown against illegal surveying and mapping in China.
Moonlight Forum is popular among military types. It provides 3D-views of military locations. Like this. The map shows several fighter-jets parked at a military airfield in Beijing. It was closed last month.
Shen Zhen enforcer Wen Huisong said, "These are military facilities. Showing them to the public is like disclosing State secrets."
However, the owner of Moonlight Forum says he was unaware of any misconduct until contacted by law enforcers.
Xiao Long, owner of Moonlight Forum, said, "Many other forums provide similar information. I thought it was ok."
In April, 2009, a company called Yingfei Lintian was found guilty of illegal surveying in South China's Guangxi Zhuang Autonomous Region. The company did not have a permit but used remote-controlled model planes and cameras to obtain large amounts of geological data.
Director Chen Lin said, "You may recognize an object the size of your palm. This data can be used to make highly detailed maps."
The company was ordered to stop surveying and received a fine of 80 thousand yuan.
The State Bureau of Surveying and Mapping has been involved in busting more than one thousand cases of illegal surveying and mapping since the crackdown began 16 months ago. About 30 of the cases involved the leaking of military information.
Editor:Zhang Ning |Source: CCTV.com