Watch Video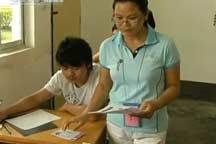 Play Video
Despite heavy rains and floods over the past week, high school graduates in the Guangxi Zhuang Autonomous Region have arrived at test sites as expected, to take their college entrance examinations. Heavy downpours are predicted to continue, and school authorities remain on high alert to ensure the exams proceed smoothly.
Giving themselves last minute encouragement.
On Monday, students in the Guangxi Zhuang Autonomous Region's flood-weary city of Laibin took the first day of their college entrance exams. Proctors say all of the registrants have taken the test.
Test taker Pan Yiqiu said, "I'm not worried, even if it rains, because the school is well prepared for it."
Rainstorms are forecast to last throughout Monday and Tuesday. As a result, lightning conductors have been set up at each exam site. Sand bags, lift pumps, and umbrellas are also available if necessary.
Meanwhile, police officers have been deployed to check safety procedures.
Police officer Lang Yongsheng said, "We have 20 police officers at the two exam sites in Xincheng County. We're patrolling around the clock to ensure campus safety. Meanwhile, if it rains heavily, we will help fight any disaster that occurs."
A total of 16,000 students are expected to take the exam in Laibin, which has been deluged by rainstorms for a full week. To ensure they are not obstructed by the disaster, the local education department has deployed vehicles to carry them to the test sites.
Editor:Zhang Ning |Source: CCTV.com