Watch Video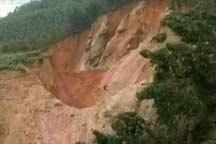 Play Video
The cave-in around a village in south China's Guangxi Zhuang Autonomous Region is getting worse. Over the past two days, the sunken areas have enlarged, and are collapsing deeper into the ground. Geologists say there was a limestone cavern under the depressed spots.
There are four pits like this in and around Jili Village. Three are 70 meters in diameter, while the other is around 300 meters in diameter.
The sink holes have formed a collapsed belt of over 200 meters, and affected nearly a half-square kilometer.
Experts say the cave-in area has been getting bigger and bigger since last Thursday.
During the past two days, the depression also increased from 20 meters to 25 meters in depth.
The closest crack is just 150 meters away from a main highway. Concerned individuals are keeping a 24 hour watch, in case further geological incidents occur.
A special team of experts has been formed to study the phenomenon. They say a limestone cave apparently lies beneath the troubled area.
Geologist Shi Jie said, "Judging from this part, there is no doubt that it is a limestone cave-in, and it has something to do with the rainstorms. There had been a drought, and the rain has caused sudden increase in water levels. Those water levels then decreased after the rainstorms. All of these factors have affected the pressure level in the limestone cave."
The entrance to the cave is too small and deep for scientists to enter for further studies.
Detection machines are on the way to help experts glean more insights into the cause of the problem.
Editor:Zhang Ning |Source: CCTV.com