Watch Video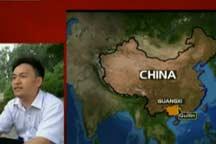 Play Video
Jiang Zhongcheng is a geologists who has gone to study the sink-holes in Guangxi, he joins us by phone.
Q1: Hello Mr. Jiang, What have you discovered during the study of the pits in Jili, have you been able to determine how they formed?
Q2: Sink-holes have also been found in several other places in China, do you think the causes are similar or there are other reasons for the subsidence?
Editor:Zhang Ning |Source: CCTV.com