Watch Video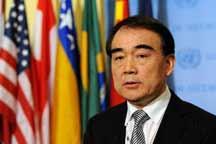 Play Video
China says the new UN sanctions against Iran, are aimed at bringing the country back to the negotiating table and activating a new round of diplomatic efforts.
Speaking at an open UN Security Council meeting, after the adoption of the resolution, China's permanent representative to the UN, Li Baodong, reiterated China's stance over the issue.
China's permanent representative to UN Li Baodong said, "China has always maintained that all actions taken by the UN Security Council on nuclear issues must be based on the three principles: first, they should be conducive to safeguarding the international non-proliferation regime. As a state party of the Nuclear Non-proliferation Treaty, Iran should strictly fulfill treaty obligations, but its rights to peacefully use nuclear energy should be respected and protected. Second, all actions should be conducive to safeguarding the peace and stability in the Middle East, especially the Gulf region. Third, all actions should help maintain the current momentum of the world's economic recovery. They can not affect the normal life of the Iranian people as well as normal international trade."
Editor:Zhang Ning |Source: CCTV.com