Watch Video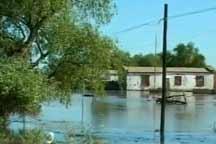 Play Video
Last winter, heavy snow not seen in 60 years hit Northwest China's Xinjiang Uygur Autonomous Region. Now the levels of the main rivers in northern part of Xinjiang have risen as the melting snow from the mountains combines with heavy rainfall.
This river in Northern Xinjiang used to be just ten meters wide. Now it is more than 300 meters wide.
The sudden increase in water volume has pushed the water level above the danger level.
80 thousand residents living along the riverbank in Beitun are threatened.
Emergency measures have been taken to reinforce a 2 kilometer-long section.
Floods have inundated thousands of hectares of farm and grassland. Around 1,000 houses have collapsed and more than 5,000 people have been relocated.
In Altay Prefecture, more than 40 roads and seven bridges have been destroyed by floods. Repair work is underway.
Southern Xinjiang is normally very dry, but there has been heavy rainfall this summer. Floods have killed livestock and destroyed farmland.
Local forecasters say more rain is expected in southern Xinjiang in the next few days. Increasing temperatures in northern Xinjiang could also cause more mountain snow to melt. The local government and residents are gearing up for possible floods not seen in 30 or even 50 years.
Editor:Zhang Ning |Source: CCTV.com