Watch Video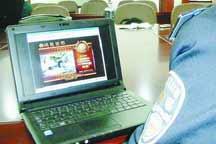 Play Video
With the 2010 World Cup now less than a day away, Tthe Ministry of Public Security has stepped up measures to curb on-line gambling. As a result, Beijing police have caught more than 100 on-line gambling gangs.
In February, Beijing police discovered people in the capital's Xuanwu district were illegally arranging for Chinese citizens to gamble on a foreign website. The size of the bets was huge.
Beijing policeman Fu Jie said, "Based on our survey, a lot of people were taking part in the gambling. The total wagers per month were around 28 million US dollars."
Beijing Police took action to stop the activity. After watching the group for more than a month, they detained 20 suspects.
Beijing policeman Fu Jie said, "All the gambling is via the Internet. They also have very structured system. The organizer, surnamed Gao, is called a Super Shareholder, and he has been detained."
Gao set up a foreign website as a gambling platform. He attracted friends to bet and split them into different levels and then takes a profit from them. Gao's on-line gambling trapped many people. One man surnamed Chen lost 90,000 dollars in just three months.
Fu Jie said, "At first, they will let you win for a couple of times, then you start to lose. The more you lose, the more you will bet. Finally you will lose everything."
Police say they have caught more than 100 gambling groups so far this year. According to the law, people who set up a gambling organization can be imprisoned for up to seven years.
Editor:Zhang Ning |Source: CCTV.com