Watch Video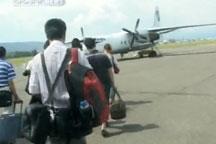 Play Video
As the last chartered plane carrying 91 Chinese citizens arrived in Urumqi, many looked back at their return from Kyrgyztan's riot-torn regions. They say their experience has been rough and they are grateful to get back.
This plane is taking off from Bishkek carrying Chinese citizens from Jalalabad out of danger. It was booked by the Chinese embassy in Kyrgyzstan.
Liu Yongqiang from Chinese Embassy in Kyrgysztan said, "We will do our best to guarantee the safety of the Chinese there."
The plane also carried some humanitarian aid for staff at Jalalabad airport.
More than 30 Chinese citizens were already waiting at the airport when the plane landed. Most of them are businessmen from Fujian Province.
A Chinese citizen in Kyrgysztan said, "We've been trapped here for many days and felt hopeless. We are so happy to leave this war-torn place and get back to our country."
Local residents were also waiting to be evacuated, so the Chinese embassy offered to bring them to Bishkek with the Chinese.
After a night's sleep in the Gyrgyz capital, the Chinese citizens headed back to the airport to make their journey back to China.
Help is also provided for those who choose to stay.
A work group member of Chinese transfer staff said, "There are some Chinese still staying there. We've asked their opinion and some have chosen to remain. We will help them around the clock. If they have any problem, they can contact the embassy."
Rioting began on June the 10th in the south of Kyrgysztan. It has escalated into the worst violence in the region in decades, killing at least 180 people.
Related stories
Editor:Zhang Ning |Source: CCTV.com