Watch Video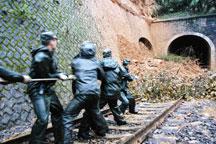 Play Video
Torrential rainfall has cut off railway lines in Fujian province. Repair work is underway around the clock to get the railway line re-opened and services back to normal.
A section of the railway line in Liancheng, which links Jiangxi and Fujian provinces, collapsed on Tuesday afternoon.
More than 500 cubic meters of road base fell off, leaving the rail hanging.
Repair work started immediately. Over 1000 workers have been at it around the clock to reseal the line with earth and rocks.
Heavy rains have made the repair work very slow.
At one stage, more than 3000 passengers were left delayed at the 5 stations along the line.
In Longyan, a railroad tunnel was cut off by landslides, immediately cutting the whole railway line across northwestern part of Fujian.
Longyan firefighter Hu Kexian said, "In some areas of the tunnel, the mud was so thick it came up to my knee. When we climbed up there were small mudslides from time to time. It is very difficult to get here."
Clearing work is even more dangerous with a steep valley on one side and loose protection barriers vicariously hanging over on the other.
The clearing work continued for more than 10 hours before trains were once again allowed through on Thursday morning.
Editor:Zhang Ning |Source: CCTV.com