Watch Video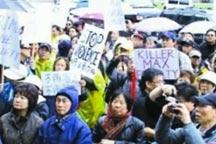 Play Video
Reports of overseas Chinese being subjected to attacks and violent robberies is becoming more common. Wang Xiqing looks at some major incidents that occurred recently.
June 1st. A group of French gangsters robbed a group of Chinese nationals in a region of Paris's Chinatown known as Belleville. A Wenzhou businessman, Zhong Shaowu, grabbed a gun and wounded a gangster. Zhong was later taken away by police and is still under arrest for allegedly possessing a gun illegally.
In May, Uyunqimg, vice-chairwoman of the NPC Standing Committee, experienced an attempted robbery in her car on the way to the Paris airport. She suffered no loss or injury thanks to the quick work of her security staff.
In the United States, from late April to mid-May, overseas Chinese staged massive demonstrations in Los Angeles, calling for authorities to fight crime and improve public security.
A string of bloody incidents there since the beginning of this year prompted the protests.
In January, an 80 year old Chinese man was beaten to death at a train station. In March, a 60 year old Chinese female was strangled and pushed down the tram rail. In April, a Chinese family was attacked after the parents attended their son's graduation ceremony. The father was beaten to death. In May, a female Chinese student died after months of medical treatment. She was raped and attacked.
Related stories
Editor:Zhang Ning |Source: CCTV.com