Watch Video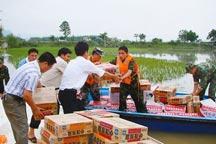 Play Video
Jiangxi Province is among the hardest hit by the rainstorms. Floods in mid and northern parts of the Province are more serious than in 1998.
People's lives are being threatened. Rescue work is on going across the region. Meng Lingqi takes a look at the rescue efforts in Yujiang County.
The heaviest rainfall this year hit Yujiang on Saturday. Floods trapped more than a hundred families in Yifeng Village.
Rescuers were told that 3 people had been washed away, but luckily there were caught by fallen trees.
On another tree not far away, a couple were found.
The man was dragged into the boat first.
His wife followed.
The couple felt very lucky.
A rescued villager of Yujiang said, "We were walking on that road, returning home, and the flood came and washed us here. "
The rescuers continued their search and rescue mission.
An old couple in their 70's didn't leave on time. Rescuers helped them out.
Rescue work was going on across the County as 40 thousand people were trapped by the fierce floods.
Editor:Zhang Ning |Source: CCTV.com