Watch Video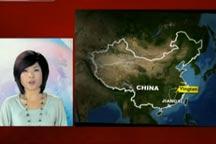 Play Video
Yujiang is just one of the counties in Yintan city, Jiangxi province, that are suffering from floods. 60,000 people were trapped in the city. For more on the latest flood conditions and relief efforts in Yingtan we are joined on the line by our reporter Li Yani, who's in Yingtan City.
Q1: Yingtan is one of the hardest hit areas in Jiangxi. Can you brief us on disaster relief efforts and tell us about the flood situation?
Q2: We understand an armed policeman died during a rescue mission in Heyuan. Can you tell us more the tragic incident?
Editor:Zhang Ning |Source: CCTV.com