Watch Video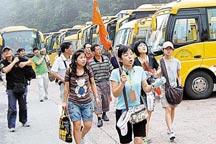 Play Video
Although the National Entrance Exam, also known as GaoKao ended last week. But this week a special GaoKao economy is now sweeping across China.
For high school graduates, the end of GaoKao means a heavy burden has been lifted from their shoulders. How to celebrate and enjoy the last summer vacation before entering college is a hot topic. Various plans take shape.
A high school graduate said, "If I get a good score in the exam, I will go travelling. If not, I will be back in school again."
A high school graduate said, "I can go to an English or driving class."
A high school graduate said, "I can learn to swim, or take up street dancing or taekwondo".
Half of the interviewed students have a plan to go travelling and relax. That's why travel agencies put forward various travel routes for graduates.
Travel Agency manager Xie Wenjun said, "We put forward a special Shanghai route for graduates, students can visit the Expo as well as famous universities in Shanghai."
Yan Junzhi, mamager of Travel Agency said, "Scenic spots like Huang Mountain and Jiuhua Mountain are popular. At both places you get a half price discount with a student or GaoKao admission card."
Meanwhile, GaoKao also boosts the sales of electronic goods, like cell phones. In order to cope with the high demand, shopping malls provide various mobile phones for graduates.
Liu Yingjing, manager of Suning said, "30 percent of everyday sales are from graduates. You can enjoy 50 yuan off with a student identity card."
Besides cell phones, other electronic goods like MP3 players, digital camera's and laptops are also on sale and are popular with graduates.
Related stories
Editor:Zhang Ning |Source: CCTV.com