Watch Video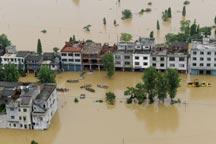 Play Video
East China's Jiangxi Province has suffered its worst-ever flooding after the Fuhe River burst its banks and flooded parts of Fuzhou City, forcing the immediate evacuation of around 100,000 people.
The dike at the Changkai section of the Fuhe River was breached Monday evening, seriously threatening the safety and property of about 100,000 people living in the area.
The opening in the dike was 60 meters at first, but widened to 400 meters Tuesday morning, despite efforts to prevent it overnight.
Villages are submerged and Fuzhou authorities have set up 17 make-shift shelters at stadiums and local schools.
People in the affected areas are desperately in need of tents and food. However, transport of relief materials has been delayed as parts of the road linking Fuzhou with the provincial capital of Nanchang are badly flooded.
As part of the emergency response, the provincial government has sent disinfectant, bottled water and instant noodles. More relief materials are on the way.
Editor:Zhang Ning |Source: CCTV.com