Watch Video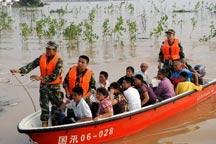 Play Video
Troops based in Jiangxi Province have been deployed to help evacuate residents and prevent the burst river bank from widening further. Through their round-the-clock efforts, most of the people trapped have been safely evacuated.
The breach in the dike widened to 400 meters Tuesday morning.
Most of the 140,000 residents living downstream of the Fuhe River were unable to escape when the flood happened. Their rescue became extremely urgent.
Ke Xinhai, official of rescue troops, said, "The rescue effort is hampered by difficulties. There are hazards in the water, tree branches and even aid materials have been swept away. Besides, visibility is quite bad. But we are taking every opportunity to rescue people."
The rescue went slowly given the circumstances. Heavy rain added to the difficulties. It took each life raft an hour to evacuate five or six people.
Those who were rescued, felt lucky, but were still afraid.
A survivor said, "The flood swept in all of a sudden. There was no time to run away. We had no chance to escape."
A survivor said, "I'm very cold. Wet all over."
So far tens of thousands of people have been relocated, and no casualties have been reported in Fuzhou. Troops have also been sent from other cities to Jiangxi to join the rescue effort and rescue more trapped residents.
Editor:Zhang Ning |Source: CCTV.com