Watch Video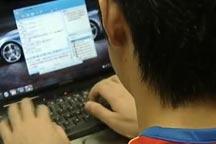 Play Video
On-line shopping has become popular in China. Low prices, and the ease of buying and paying for goods have attracted more than a hundred million netizens. People can find what they want without stepping out of their front doors. But as the business flourishes, it's opened opportunities for an increasing number of swindlers.
This looks like Taobao.com, the country's most popular on-line shopping site. But it's not.
Despite the same logo and format, it's hard to tell the difference between this and the real one, apart from some slight changes in the address.
Once shoppers decide to pay online, they can easily fall into the trap set by the swindler.
The website induces you into its own payment system with false bank links. Without noticing, shoppers can expose their bank account details and personal information to the imposter. This cheating method is also known as " fishing".
Li Hong, vice director of Internet Complaint Center, said, "Fishing takes up more than a third of the Internet complaints we've received this year. There are an increasing number of such cases."
Victims use on-line groups to alert other people to the problem and protect their consumer rights. Mr. Xu is one of them.
On-line shopper Mr. Xu said, "I bought clothes costing one yuan on a website that looked the same as Taobao. But after I paid for them, I found 1,000 yuan had been deducted from my account. I couldn't reach the seller from then on."
And getting the money back is almost impossible. One thousand yuan is too small an amount to be investigated by the police, making fishing more attractive to thieves.
Experts say fishing cases have destroyed the online credit system and could be threatening the world's largest on-line consumer market.
Related stories
Editor:Zhang Ning |Source: CCTV.com