Watch Video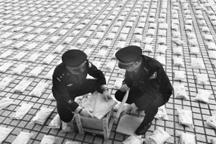 Play Video
Last week, a drug gang was brought down by the joint efforts of police in Kunming, Yunnan province and Liaoning. Liu Huiquan, a 46-year-old man in Kunming, is the head of the gang. His brothers and grandfather were also involved. It took police two years to make the bust.
Liu Huiquan set up the dealer group in 2008, and they appeared again in February, 2010. Investigation showed that Liu came to Yunnan to buy drugs and went back to Benxi, Liaoning province to sell.
Police from both cities started a new round of investigation, and monitored his bank activities.
Very soon, large sums were being moved.
A police officer of Kunming Raileay Police Station said, "We realized Liu Huiquan was only in charge of getting the funds. Other things were left to other people."
Police seized the drugs that Liu bought in Yunnan. At the time, Liu had already returned to Benxi and was waiting for the drugs to arrive. Police immediately tracked him down.
A police officer of Kunming Raileay Police Station said, "We waited to see who Liu would send to pick the drugs, and then who he'd sell it to. We expected to discover the whole group step by step, and get enough evidence to arrest Liu."
It turned out that Liu Huiquan himself pretended to be someone else to pick up the drugs, expecting to earn another large sum of money.
But when he went to the pick-up place, police were waiting to arrest him.
The other dealers were found soon after Liu's arrest. The rest of the gang was rounded up last week.
The dealers had sold more than a hundred thousand pills since 2008.
Related stories
Editor:Zhang Jingya |Source: CCTV.com