Watch Video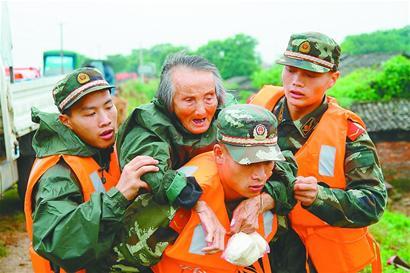 Play Video
After the dyke first breached on Tuesday, many people were left stranded in their homes or in higher places, waiting to be rescued. Firefighters and troops worked together forming rescue teams to help.
Under the flood water, there used to be roads, farmland and trees. This boat had to proceed carefully to avoid crashing into or grinding tree stumps and power poles.
Residents were left stranded across a massive area. Even farm animals becomes stuck on roofs.
In this mission, rescue teams rushed to save 6 kids trapped in Beibao Village in Fuzhou.
A baby was among the saved.
Carried on their shoulders, all were rescued.
Rescued kid, Fuzhou, said, "The rescuers are silently making their contributions to us. Very unselfish, not looking for rewards."
Similar rescue work went on across the city.
A team of 50 firefighters from Yingtan City,Jiangxi province, joined in the search and rescue work.
Is anybody here?
In one place, a ladder was unable to be set-up, so a rescuer used himself as one.
Lower down, put down one foot first
Don't worry, we will carry you
The rescuers' work continued through to early Wednesday morning.
426 people were saved by firefighters.
Related stories