Watch Video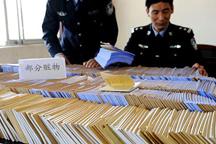 Play Video
China's National Audit Office has submitted its report to the National People's Congress on how central government departments handled their budgets last year. Fifty-six departments and their subsidiary divisions were subject to strict analysis.
The audit uncovered many problems.
Auditor-General Liu Jiayi reports many departments did not keep to their budgets. His office found 16 departments overspent more than 870 million yuan in total, and 19 departments didn't follow proper procedures when selecting tenders.
Violation of rules was discovered to be a prominent issue.
About a billion yuan is suspected of being embezzled or handed out illegally as allocation funds. Another 1.6 billion yuan was collected illegally.
The auditors found widespread use of false receipts for reimbursement. More than 51-hundred out of about 30 thousand randomly selected receipts were shown to be fakes, involving more than 140 million yuan.
The report says debt is the biggest issue for local governments around China. The risks posed by debt are highly concentrated at the provincial and city level, and in western areas of China.
Related stories
Editor:Zhang Jingya |Source: CCTV.com