Watch Video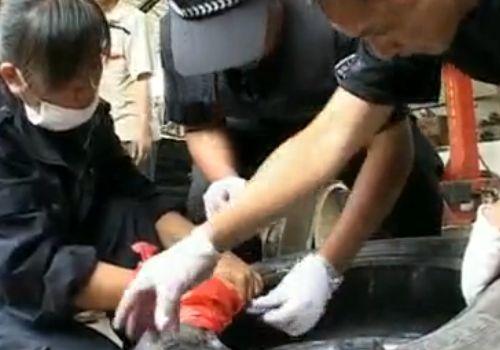 Play Video
Saturday marks International Day against Drug Abuse and Illicit Trafficking. Police in Yunnan Province have recently busted several drug trafficking rings.
This car carrying two men was heading to Dali from Sishuangbanna in Yunnan. The police performed a routine check on the car.
"Only you two in the car?"
"Yes."
"What's the relationship between you two?"
"Friends."
The men appeared calm, but the police found something in doubt.
"What did you find? Anything suspicious"
"I found a pump in the trunk."
Police wondered why the car's tires may need to be pumped frequently.
"There's the smell of ice."
The smell came from the valve. 14 kilograms of methamphetamines or ice was found in the two front tires.
In another routine check, two women appeared quite nervous.
An X-ray explains the secret.
"One in here, and another one here. There are two."
The two women then confessed to ingesting bags of ice. An hour later, the ice was removed. Around 180 grams in each person.
"Who asked you to bring this?"
"My boss."
"What's his name?"
"I don't know."
"What did he tell you?"
"We sold vegetables. He told us that doesn't make money, but bringing this for him would."
Police say that currently many drug dealers use women as mules to transport drugs. Officials say women could die if the package of drugs collapses or opens inside their body.
Editor:Zhang Jingya |Source: CCTV.com