Watch Video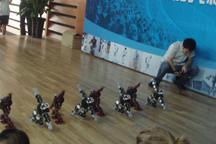 Play Video
The Olympic Games is an iconic sporting event known in every part of the world. It's where thousands of athletes from different countries come together to compete for gold. Recently, a similar sporting event was held. But, instead of people, it was just for robots.
This version of the Olympic Games for robots was held at the Harbin Institute of Technology in northeast China's Heilongjiang province. And this year was a little bit different. Instead of robots using wheels to move, they used legs.
First event on the agenda was a boxing match. A robot competitor from Changchun Institute of Technology downed his opponent from Beijing Information Science and Technology University with a strong left-hander.
Wang Hongfeng said, "Our characteristic is speed. Fast plays an important role."
Soon after, it was time for short-distance races. Robots from 17 universities of the US, South Korea and China took part.
A student from Harbin Institute of Technology, said, "The hard part is to imitate the movement of a human being. The shoulder is similar with a human's, and so is the forearm. Its leg is quick in action, so he can walk like a human being."
Zhong Qiubo, Judge, said, "The South Korean team won the game. Its result for 5 meters was 19.33 seconds. Equal to 400 seconds for 100 meters. "
This year's robot Olympics held 21 events like track-and-field, a ball game, dance, and gymnastics.
Rules and disciplines of the matches were mostly the same with the Olympic games for humans.
Related stories