Watch Video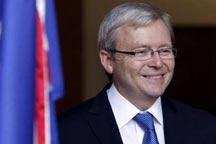 Play Video
Kevin Rudd stood out from other western leaders as a fluent speaker of Chinese. There were high expectations for bilateral relations, when Rudd, who majored in Chinese, became Prime Minister. However, there were both ups and downs during his time in office.
Kevin Rudd telling a famous joke to students at Beijing University, impressing them with his fluent Chinese.
He was dubbed the "pro-China Prime Minister" when he took office in December 2007.
Some believe his election was helped by support from over 800 thousand Chinese Australians.
Initially, he didn't disappoint. During the early days of his term, China and Australia's trade and political relations grew in a positive direction.
This climaxed with a visit by Rudd to China in April 2008.
Chinese president Hu Jintao said,"I noticed you said Australia would like to be a responsible, cooperative partner of China and a regular supplier of energy. I appreciate that statement highly."
Former Australian PM Kevin Rudd said, "Thank you very much for receiving me here."
Kevin Rudd joined many world leaders in objecting to a boycott of the 2008 Olympic Games. He stated his support for the one-China policy on several occasions.
However, in 2009, China-Australia relations were soured, when Australia issued a visa to a separatist from the Xinjiang Uygur Autonomous Region. Kevin Rudd backed the move, saying it was Australia right to grant visas to whoever it sees fit.
The Rio Tinto case further put relations between the two counties to the test, when four employees of the Australian iron ore giant were convicted by a Chinese court of bribery and embezzlement.
The company eventually fired the four, insisting the case would not affect future cooperation. But Kevin Rudd's initial tough and protective stance on the issue took its toll on his image, in the eyes of most Chinese.
Editor:Zhang Ning |Source: CCTV.com