Watch Video
Play Video
Premier Wen Jiabao is in Jiangxi Province on an inspection tour. He has visited troops and villagers in several disaster-hit areas, and put forward proposals to combat the floods.
Right after getting off the plane, Premier Wen went to Fuzhou city, one of the most severely affected areas. Addressing troops and firefighters there, the Premier encouraged them to do everything they can to help people.
Chinese Premier Wen Jiabao said, "On behalf of the Party Central Committee, the State Council, the Central Military Commission and President Hu Jintao, I'm here to encourage you to be fearless in tackling the flood. You have already made a great achievement in saving the lives of 100 thousand people in 48 hours, without even one death."
Premier Wen also visited villagers in Donghu village. After learning that some people had been evacuated, Premier Wen Jiabao was encouraged and urged them to live well.
In Fuzhou city, 17 shelters have been set up, providing accommodation for 20 thousand people. Premier Wen visited one of the shelters to comfort the flood victims.
Premier Wen has also put forward proposals to help combat the flooding. He said the most important task was to provide shelter and long-term accommodation.
He said work to monitor, forecast and warn of heavy downpours and flooding should be strengthened as soon as possible. Emergency plans should be prepared in advance, attaching importance to the most disaster-prone areas, and ensuring the security of schools, enterprises, railways and tourism sights.
Premier Wen Jiabao also asked government officials at all levels to work hard to combat the floods, and take responsibility for their work.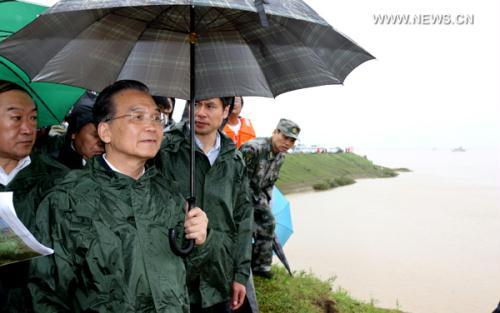 Chinese Premier Wen Jiabao (C) visits the dike at the Changkai section of the Fuhe
River, in Fuzhou, east China's Jiangxi Province, June 24, 2010. Wen Jiabao Thursday
visited flood-hit Fuzhou City in Jiangxi to inspect the fight against flood and
disaster relief work.(Xinhua/Yao Dawei)