Watch Video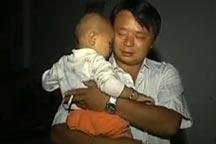 Play Video
The flood-battered dyke in east China's Jiangxi province has caused destruction and evacuation of 100,000 people.
Zhou Weihua is one of the evacuees in Jiangxi province. During the breaching of the embankment, all the houses in his neighborhood were under water. He and his family were safely rescued. Zhou's father was evacuated earlier, and they lost touch. But they were sent to Fuzhou's indoor stadium of Fuzhou city where they were reunited.
Zhou Weihua, villager of Jiangxi Province, said, "We lost touch with my father and were worried. Luckily, we saw each other at this exit. Now we are happy to be back together."
The first night after their relocation, Zhou hoped the whole family could stay together. But he wasn't optimistic. As the stadium was already full of evacuees, it was not easy for the family to find a place to stay. After consulting staff in the stadium, Zhou found an empty room on the third floor. The flooding has passed, but his memories are still fresh.
Zhou Weihua said, "I was cooking and we were ready for supper. Suddenly I heard many people shouting "floods are coming, floods are coming..." Water was rising fast and it was higher than a meter within an hour. Houses were submerged. I was scared to death at that moment."
Thanks to the troops and local officials for their timely rescue, Zhou's family was safely evacuated.
Zhou Weihua said, "Reuniting my family is the most important. We don't worry about the loss. Money is nothing compared with out lives. Safety is happiness. We just wanted to be together again."
It was midnight, and Zhou Weihua could finally sleep well after dyke's burst. As more and more flood victims are reunited, they can share the same feeling of relief.
Editor:Zhang Ning |Source: CCTV.com