Watch Video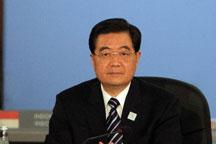 Play Video
President Hu Jintao has arrived in Beijing after attending the G20 Summit in Toronto, Canada. The Chinese leader delivered a speech at the summit. He elaborated on China's propositions on how to meet economic challenges and how to strengthen world economic growth.
Securing the global economic recovery was high on the agenda at the fourth G20 summit in Toronto.
President Hu Jintao said in his speech that the world economy is gradually recovering, but was fragile, unbalanced, and still facing many uncertainties. These issues include the expanding sovereign debt crisis, drastic exchange rate fluctuations of major currencies and persistent volatility in international financial markets.
The president then laid out several proposals.
He said G20 countries should increase the summit's role from an effective mechanism in countering the international financial crisis ... to a premier platform for advancing international economic cooperation.
President Hu Jintao also stressed the need to accelerate the establishment of a new international financial order that is fair, equitable, inclusive, and well-managed, as well as the establishment of an international financial system that is good for the growth of the real economy.
He also said it is necessary to build an open and free global trading regime.
On the sidelines of the summit, President Hu met several leaders including those from Indonesia, Russia, the US, Britain, Japan and South Korea.
Before attending the summit Hu paid a state visit to Canada, his second as head of state in five years.
Hu Jintao's proposals at G20:
Adjust G20's role to a int'l economic cooperation platform
Form new int'l financial order and system
Build an open & free global trading regime
Editor:Zhang Jingya |Source: CCTV.com