Watch Video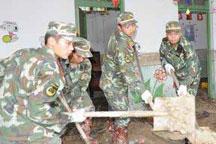 Play Video
Baozhuang village in South China's Fujian Province is one of the worst hit areas from the heavy rain. With the road being cut off and the bridge being destroyed, Baozhuang become an isolated island. Hundreds of villagers including 5 pregnant women were stuck there. Last Saturday, rescue teams arrived into the village and provided a life line to many.
In the eyes of Dai Changqin, one of the 5 pregnant women stuck in Baozhuang, the 50 meter trip on the bridge seems endless.
Dai Changqin, stuck villager, said, "I was terrified, all I'm thinking of is to pass the bridge as soon as possible."
After the makeshift bridge was built Saturday afternoon, Dai and the four other pregnant women were the first to leave the village. Looking back at the past 9 days, Dai and her husband still cannot believe what happened.
Dai said, "There was so much rain the first day, the mountain seemed to crack, rock, trees and mud suddenly come down with the flood."
Liao Yuanfu, Dai's husband said, "The village head tells us whenever you hear the alarm, just run."
She said, "We have to get prepared to run at any time. I am pregnant, and I still have to run as well, or I'll die."
After being saved, Dai together with another pregnant women Liao Dongying and another 60 villagers are transferred to Yuankeng Primary School. Doctors will provide a regular check on the future moms.
A doctor said, "The mother and her unborn child are now in good condition, they are very healthy now."
In about three weeks Dai is expected to give birth. With new life approaching, Dai and her husband are full of good wishes. They say they will give a special name to their new born baby to encapsulate their experiences.
Related stories
Editor:Zhang Jingya |Source: CCTV.com