Watch Video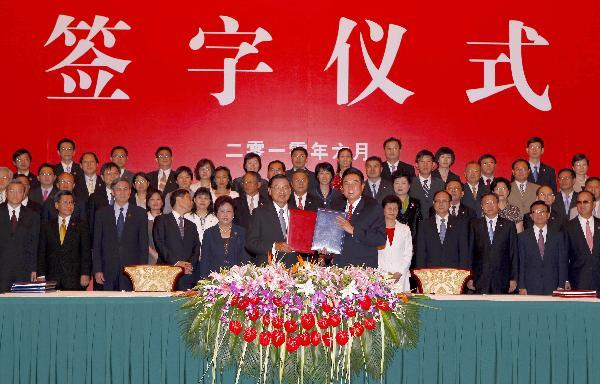 Play Video
The Chinese Mainland and Taiwan have signed a landmark trade deal in a bid to bring both economies closer. The pact, known as the Economic Cooperation Framework Agreement, covers trade and investment, and provides preferential treatment for certain sectors and goods.
In southwest China's Chongqing, the handshake of top negotiators from the mainland and Taiwan marks the signing of a long-awaited economic pact.
Both sides are confident that the agreement will play a significant role in cross-strait relations.
Chen Yunlin, President, ASSO. for Rel. Across the Taiwan Strait, said, "The signing of the ECFA is an urgent task in order to achieve common development and prosperity in economy across the strait. We also should realize that economic development is based on the peaceful development of cross-strait ties."
Chiang Pin-Kung, Chairman, Taiwan's Straits Exchange Foundation, said, "When facing a financial crisis, the regional economy should be reformed. Pushing forward this kind of framework can not be delayed. The ECFA is to bring mutual benefits and will help economic activities across the straits."
According to the agreement, the mainland and Taiwan will jointly set up a committee for cross-Strait economic cooperation to ensure ECFA measures can be reached and to supervise the implementation of the pact.
Before it comes into effect lawmakers in Taiwan need to first ratify it in early July.
Related stories