Watch Video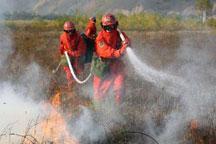 Play Video
Firefighters are still battling blazes in a forested area of northern China's. Inner Mongolia Autonomous Region and Heilongjiang Province. The fires have been reported in several areas on the Greater Hinggan Mountains. Two thirds of the fires are under control.
The fires cover an area of 12 square kilometers.
The first were spotted Saturday afternoon in Inner Mongolia. They later spread to Heilongjiang.
Five more blazes, ranging from one to three square kilometers were reported on Sunday and Monday.
More than 9,000 people have been battling the fires and another 3,000 are on the way.
The local meteorological observatory says the fires were triggered by "dry lightning," which refers to lightning happening without rain.
They are frequently seen in the forested area of the Greater Hinggan Mountains.
The air temperature has been at a record high, more than 38 degrees Celsius, since mid June, and there has been no rain for more than ten days.
Forecasters say rain is expected Wednesday bringing some relief to the firefighters.
Related stories
Editor:Zhang Jingya |Source: CCTV.com