Watch Video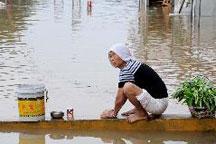 Play Video
Continuous rain has lifted reservoirs' water level in South China's Taizhou, Zhejiang Province. Most reservoirs, including the largest Changtan reservoir of Taizhou, passed the alarm level.
High water pressure burst a pipeline on Sunday which caused a water supply suspension in Taizhou. The water shortage was resolved Tuesday afternoon but the crisis is still causing concern for local citizens.
Last Sunday night, a main water supply pipeline at the Changtan Reservoir burst. 7000 cubic meters of water was wasted hourly. The water supply in many areas was suspended.
Yan Chuanhua, Head of changtan reservoir, said, Changtan reservoir's water line has reached nearly 35 meters, which surpasses the alarm line. The pipelines have been used for more than 15 years. Now we are trying to replace the broken pipeline as soon as possible.
After the pipeline burst, rescue teams made great efforts to make a replacement. Meanwhile, water supply downtown was severed. More than 300 thousand people lacked drinking water. The local government adopted various methods to guarantee people's basic requirements.
Taizhou firehouse sent out fire engine filled with clean water to communities and hospitals. Officials dispatched water 4 to 5 times a day.
Schools took measures to tackle water shortages. The Headmaster of the Huangyan Experimental Middle School says they started using their back-up water facility right after the water suspension.
Kong Qingzhou, Huangyan Experimental Middle School, said, I asked teachers to tell their students to save water as much as possible.
In Jiufeng Park, a one thousand year old well serviced hundreds of people. A sense of urgency overwhelmed the crowd as people competed with their barrels, buckets and water bottles for the precious water.
Mrs. Zhao, Citizen, said, There used to be only 10 people who would get water from the well.
Older people are going to the front of the line when it comes to water. This lady in her 70's, surnamed Wang, in only in 2 hours' time was able to get a whole tricycle of water.
Unprepared citizens who are running out of water had to get water from a brook in Jiufeng Park. Some of them were even forced to do their laundry there.
Luckily the crisis was over quickly. On Tuesday afternoon the broken pipeline was replaced and the water supply returned to normal.