Watch Video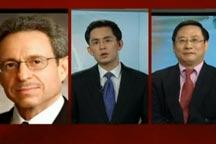 Play Video
For more on the CPC Central Committee's latest move to set up more spokespeople in party departments, we are joined in the studio by our current affairs commentator Dr. Gao Zhikai and on the phone by Dr. Robert Lawrence Kuhn, Chairman of the Kuhn Foundation.
Q1. Good evening to both of you. Today was probably the first time for spokespeople from 11 Party departments to show up in front of the press all at once. What kind of message does this send?
Q2. The CPC Central Committee International Communication Office explained that the move aims to improve the disclosure of Party affairs and information. Does that mean that common people, Party and non-party members alike, will get to know more about what is going on in the political system of this country?
Q3. Do you think that the new spokesperson system in the Party will allow more supervision from the public in the decision making process?
Related stories
Editor:Zhang Ning |Source: CCTV.com