Watch Video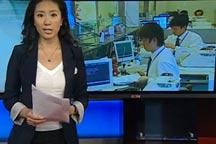 Play Video
CCTV reporter Wang Mang Mang joins us in the studio to tell us more about this story.
Q1. Good Evening, Mang Mang. Your story brought up the issue of monopoly. Can you elaborate on how it affects the occupational wage gap?
WMM: Certainly. It seems breaking monopolies is key in closing the income gap. Authorities are considering putting a cap on the total salary amount at profitable state-owned monopolies.
The Ministry of Human Resources and Social Security says in a report it would map out specific measures to "strictly control"the total payments to these enterprises.
For example, the monthly salary for an average employee in telecommunications and natural resources is quite high. Usually three times that of someone in the private sector, who makes about 3,000 yuan a month.
The result has been public complaints and millions of college graduates seeking jobs at state-owned monopolies, for better healthcare insurance and a more stable income.
The country also wants to "put a ceiling on high-income, expand the medium-income class and ensure a minimum wage."
There are also plans for a mechanism that grants workers more decision-making power in formulating salary policies and lets wages fluctuate in line with the ups and downs of businesses.
Q2. Yes. There are complaints that wages have not risen along with GDP. How does the reform deal with these concerns?
WMM: Indeed. The All-China Federation of Trade Unions recently revealed that while wages accounted for more than 56 percent of the nation's GDP in 1983, this figure dropped to just under 37 percent by 2005. That means the increase in GDP has not increased the wealth of individual households. It'll be a different and more prosperous situation if the country distributes more wealth to people who powered its economic development.
There are calls for the income distribution reform to go hand in hand with tax reform. One of the experts I spoke with says that tax reform is key to balancing regional development. He favors preferential tax policies and higher wages for the less developed middle and western regions to attract investment and talent. And his idea appeals to many economists.
And the government itself wants to use tax reform as a way to increase individual income. And this may concern corporate tax and personal income tax. It's not easy to balance the interests of all sides. We'll take a closer look at that issue in my next story.
Editor:Zhang Ning |Source: CCTV.com