Watch Video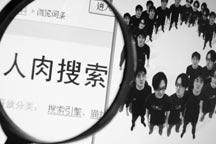 Play Video
The newly enacted Tort Liability Law grants legal rights to people whose reputation or privacy has been damaged by online character assassination. It also holds Internet service providers accountable if they are aware of malicious intent of anonymous attackers, but fail to stop the infringement.
"Human flesh" search is a loose term to define thousands of anonymous Internet users who work together as self-styled detectives. They track down and harass people they disagree with by exposing their personal information online.
February 28th, 2006. A netizen posted a video clip depicting a woman in trendy clothes trampling a kitten using her high heel shoes. It soon triggered an outrage among other netizens. A human flesh search was initiated and four days later, the woman's personal information was exposed online.
A month later, a netizen told a story of his wife's betrayal. He claimed his wife had had a one night stand in an offline event with a man called Bronze Beard. The post triggered another human flesh search. In the end, Bronze Beard's real name, his photo, mobile phone number and even primary school records were published online.
In both cases, the victims of human flesh search did not have legal means to fight back.
But from today, their rights to privacy will be guaranteed by the Tort Liability Law.
A provision of the new law stipulates that Web users and Internet service providers are legally responsible if they use the Internet to maliciously attack innocent victims and compromise their personal information. Victims have the right to demand the deletion of such posts.
Internet service providers who are aware but fail to comply to the victim's request will be held responsible. The victims are then entitled to compensation from abusers.
Editor:Zhang Ning |Source: CCTV.com